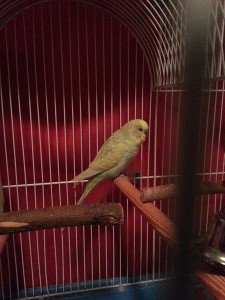 This little guy is Phoenix.  He is approximately 6 years old and one of our newest arrivals.
Due to unforeseen issues within the family, he and his brother needed to be surrendered.  Sadly, his brother of 6 years – Gemini – passed away the day of arrival 🙁  Phoenix's health exam shows that he is a bit underweight and has some Vit A deficiency.
We were concerned that losing his cage mate would result in depression for Phoenix and we monitored his health and behavior very closely for the first few days.  We are happy to say that within 2 days he was chirping, eating and being a typical budgie.
We have added some new toys to his cage and he LOVES anything shiny – mirrors/bells/chain – he loves it all.
One of our other resident budgies has taken a HUGE interest in him and for the first time ever has started chewing paper and exhibiting nesting behavior – the two are talking back and forth to each other and if they become friends – we will adopt them together 🙂
Phoenix is eating budgie/parakeet seed mix and pellets are being offered – as well as bird mash/millet and fresh hung veges.
He would be a great addition to any family (he is not hand tame at this time).