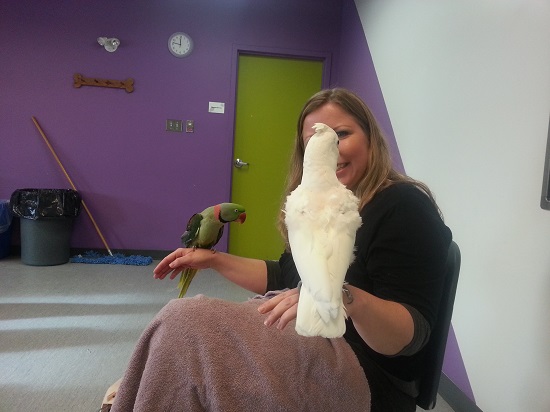 Pictured below is a presentation at the Calgary Humane Society KFAC – Kids camp.  We discussed parrot ownership, care, and the realities of parrots in rescues.  What an amazing group of kids!
(Melaina – human resource manager at CHS with Eddie her Alexandrian Parakeet and Joey the Goffin Cockatoo – a resident at Birdline)
A critical part of what we do at Birdline includes Education.  We believe everyone looking to bring a parrot into their home, should be aware of the huge responsibility they are undertaking and be ready to handle the many challenges.
We are available to come and visit your group/class and share what we do as a rescue organization and explain the realities of parrot ownership.
We do NOT charge to come and visit and have found most groups give Birdline an honorarium or the group does a fundraiser on their own prior to us coming down.  This however is NOT a requirement!!
Please read through the many articles we have posted.  We have provided them for you to read and further educate yourself on life with a parrot and if a parrot is the right choice for you and your family.  As well, it may help you decide "what" parrot is the best fit.
Feel free to email us anytime with any questions: info@birdline.ca