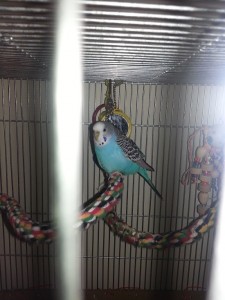 This little sweet heart is Kitty.  She was transferred in over a year ago and spent some time in foster. At arrival she weighed 40 grams and her weight increased to 64 grams.  She has what is called a fatty lipoma on her chest.  She has undergone a dietary change and also had milk thistle.  She is slowly losing weight and  is much more active than she used to be. She is fully flighted but with the added weight does not fly to far. She is partially handtame and very gentle when you do handle her.
She has shown interest in the newest arrival Phoenix and there is a chance they may get to be friends. We have not had the budgies interacting yet with each other, but they are showing clear signs they are interested in having friends.
She loves her toys and you often hear her beating them up and chortling to them. She has a very cute voice 🙂
She would be an awesome companion for a lucky family.