****Charlie has found a new loving family****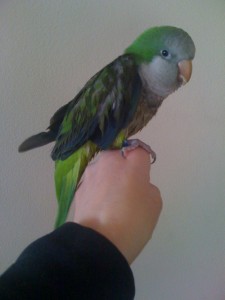 (This is NOT a Birdline bird. We were asked for assistance in placing his information on our website in hopes that the family will be able to find a new feathever home for him. The owners contact information is listed below).
I am trying to find a home for my Quaker (green) parrot Charlie, he was born in 2004 and is DNA male. I am needing to move and he is unable to be taken because he is illegal in California.
He is well behaved but a bit nippy so I wouldn't trust him with small children, he has been around other pets a dog, cat and an African grey and cockatoo but he isn't good with other birds, he will attack them if given the chance.
I got him 3 years ago and he was a bad plucker and very aggressive in his cage, he is stick trained now and will be gentle on a finger or shoulder. Only issue was the previous owners (5-7 of them before me) had taught him to swear and he does say the F word and I haven't been able to train him not to say it.
He is clear of any medical issues and has been seen as a regular patient at Calgary Avian and Exotic Pet Clinic. He is located in Calgary AB.
We are asking a rehoming fee and can discuss this further with the potential new family.
Please contact Shawna-Lee :
403-605-6950 or email crazy_goth_emt@yahoo.ca