** Update ** Darwin has been adopted! Thank you to all who were interested!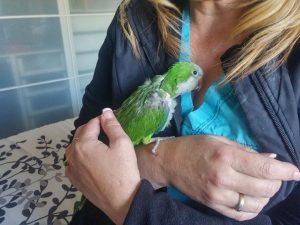 Darwin is a Quaker Parrot who has been with us now almost a year.  This little guy came from a hoarder and unfortunately has never had the proper social skills and resorted to feather destructive behaviors.  In the past year he is learning to calm down and not be fearful of everything near his cage. For the first few months we could barely walk into the room without him flailing and becoming fearful.
Away from his cage, he will sit with you for short periods of time and allow some light touching – you have to go very slow with him.  He has been clipped as he wants to be with other birds and thinks the macaw would make a good friend – for his safety we decided to keep him clipped.
He has not shown aggression to other birds and is quite the opposite – he likes being around them.  However, a safe distance is recommended to keep the bird/s safe if a multibird home.
Darwin has transitioned off 100% seeds to fruit/veges – a tsp of seed and LOVES his high potency harrisons.  He is very treat motivated which will be beneficial in his training.
He has discovered a new toy (his swing)and loves to hang out on this for hours and talk to it (hes learning to form words!!).
His new family will need to have alot of patience as he learns to trust you.  We don't recommend small children as he is cage aggressive and has no problem biting or swinging off the side of it to get to you.
If your interested in adding this little featherbutt to your family, please fill out an application.
If you have any questions – please feel free to email anytime: info@birdline.ca