"God saw you getting tired,
A cure was not meant to be..
He opened his arms wide for you..
"Jessie – come fly home to me"
Jessies Story………
Jessie came to us from another rescue many years ago. He was truly a unique amazon. He originated from the Cayman Islands – he was wild caught when he was about 20 years old. A tourist was approached by a busker with a basket – inside that basket was Jessie.
He sold Jessie to this woman for 50.00 – at the time in (the late 80's)the importation laws were not as strict or in place as they are now.
When she took him out she noticed he was injured and found an island vet to assess him. The vet told her he was a wild bird and during his capture he was injured – he had to place a stent in to relieve his air sac trauma – she was told he could not be set free now and would most likely be euthanized. She asked if she could take him home to Canada. They said yes.
She spent almost 6 months getting his export permit from the Cayman Govt and the Import permit from the Canadian Govt. Both were granted due to his medical issues.
He spent many years with this woman who dearly loved him – unfortunately a volatile and abusive personal relationship with her spouse caused both her and Jessie to beat on numerous occasions. Jessie loved her and would attack anyone who got in the way. She was forced to leave the home and couldn't keep Jessie – his car alarm calls were to noisy and she had to give him up. She was devastated.
Jessie found his way to us. When we heard his story, and spoke to the Canadian Gov't, we were told how special and endangered his species was and would we be interested in returning him?
We said YES. We had the support of the Canadian Govt who were going to issue an export permit for us and would help us fly him back to the Island.
We got in touch with the Cayman Govt and the rescue/rehab facility they now had set up for Cuban Amazons – the director of the facility would welcome him with open arms and even sent us photos of his new cage mate – a wild caught amputee just as adorable as Jessie.
Unfortunately, Jessie was still having some air sac issues, and constricted toe syndrome – when the vets at the rehab center shared his medical concerns with the Govt, they declined his import permit and said due to his age (at least 40)and medical concerns, he would not be suitable for rehab or used in the breeding program they had.
Jessie remained with us. Over the years he continued to have flare ups with his air sacs and his toes got worse, one was amputated and some he lost in a previous accident before coming to us (he was on a door, the door was shut and his toe was cut off and one dislocated and never repaired.)
We tried placing him with families but he made it very clear he didn't like anyone but me and would attack. We kind of figured he would call Birdline home.
In March of 2014, we suffered a devastating fire and lost 27 birds, Jessie was one who survived – but the smoke inhalation did cause trauma to his respiratory system (airsacs) and we noticed he was having more flare ups than before.
He also started showing signs of lameness – his toes were getting worse. Due to the airsac trauma, surgery was not an option.
The past few months saw him getting more lame and his toes were in bad shape. We did repeat xrays and found pretty severe arthritis in his ankles, worse in the left one – the one with the bad toes. Last week we had him in for treatment and also found his airsac troubles starting again and now going into his cheeks – his face was swelling up…
Jessie had an amazing "quantity" of life with us, he was spoiled beyond words – but sadly, his "quality" of life was no longer there. He could no longer stand for long periods of time, his left food/ankle hurting him, and his right foot was forming pressure sores. He no longer bombed around and only sat, with his leg up resting.
The hardest decision ever had to be made..
Jessie is flying free the way he was meant to – hes back with the flock and no longer in pain..saying goodbye has tore my heart in pieces but it was the best decision for Jessie.
Wild birds are just that – wild – they don't belong in our homes and cages just because they are unique or different. Human selfishness tore him from his home – all for 50.00. Sadly, this still goes on in certain countries and so many exotic parrots are at risk of extinction including Jessies species.
Jessie taught me so much in the time he was with us and I am blessed that we were with him till the end and showed him what love looks and feels like..I will love you forever Jessie
"The joy of you,
theres no love greater…
we won't say goodbye,
we'll say "see ya later"..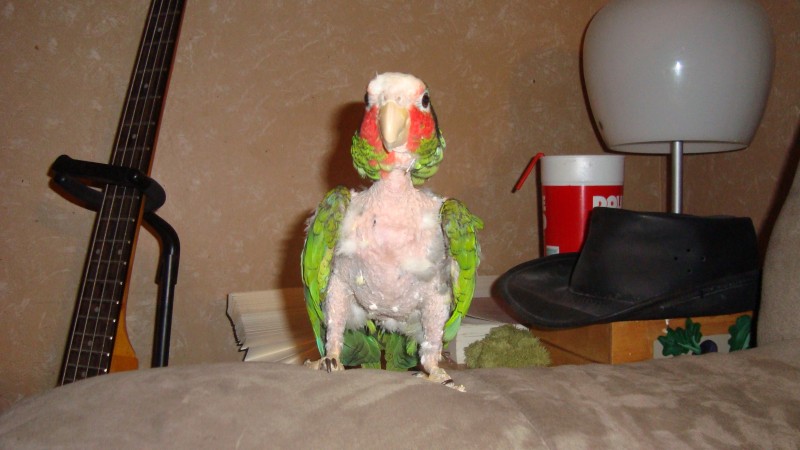 Jesse is a Cuban Amazon (Cayman Parrot) and a very special boy.
Jesse was wild caught directly from the Cayman Islands.  Its not uncommon for buskers to 'catch' wild parrots and than sell them to tourists  who are not always aware that they cannot transport the bird back home.
At some point during the time he was caught, and the time this tourist purchased him, Jesse suffered a pretty traumatic air sac injury.  The new owner did seek out medical care for him with the island vet, and a drainage tube (shunt)was inserted.
It was decided at that point, that this bird could not be released back into the wild due to the injury – at the time of capture they estimated his age to be around 20 years old.  The new owner decided to bring Jesse back to Canada and provide him with the best life she possibly could.  CITES permits were obtained, import/export certifications were done and Jesse made his way to Canada about 6 months after being caught.
His life in Canada started out fairly well – but unfortunately that changed after about 8 – 9 years and he found himself in a place that was not safe for him.  Not long after arrival to Canada he did start plucking, and has never stopped – its doubtful any feathers will ever regrow at this point.  He suffered a foot injury and lost the tip of one toe and the other was broken and never healed in the right proportion.
After being surrendered to another rescue organization, he was later transferred to us.  At that time we did not have all the paperwork for him and thus began a journey of getting the proper documentation for him to remain here – his species is now listed on CITES APP I and the government wanted proper verification/s for his eligibility to be here.
After a few months, we did obtain the CITES permits needed and spoke at length with the Canadian Govt to see if we could send him back to the Island to a new program they had in place for injured cayman parrots.  The Canadian Govt was going to help us obtain the paperwork needed to get him back into his home country and ensured they would provide the export permit to see him go home.  Unfortunately, after the Cayman authorities reviewed all documents, and medical, they refused to provide us with the import permit to allow him back into the country.  They felt he had been out to long, was to humanized(so to speak)had medical concerns, and was not suited to the rehab or breeding program in place and was simply to old.  We were than told we had the legal authority to go ahead and place him for guardianhip and he was officially a Birdline bird.
Jesse has always been a bit different than the other amazons.  While some of his body mannerisms are the same, his contact call is nothing like the others – he sounds more like a car alarm and can go on with this call for over a minute without taking a break!
This sweet boy is now about 37 years old and has been waiting along time for a loving family. Unfortunately, due to some tragic circumstances for him, Jesse does NOT like men.  There are a few he can tolerate, but certain ones will have him launch himself across the room to attack – he may be a small guy, but he moves pretty fast!  He should only be in a home with women.  He ignores children for the most part, but because of his personality, he would do better in a calm environment.
No attached dwellings for this boy – he can be VERY vocal at times 🙂  He does step up willingly but does not like his toes grabbed/held.  He spent more time as a wild bird than a captive one and because of that, he was never properly socialized prior to coming into us and at this point, while he likes a head scritch, its when HE asks for it.
Jesse is very special and unique and would be fine as an only bird.  He normally stays off other cages and enjoys different playstands and loves to eat – his favorite past time.  Hes not the biggest toy player, but does enjoy cardboard and small blocks once in a while.  If you think you may be that special someone for Jesse, please send us an application form that can be found under the guardianship tab.