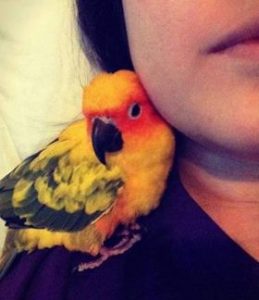 Sunny is located in Regina Sask and is looking for a new feathever family to call her own.
She is approximately 7 – 8 years old and has been sharing her home with another sun conure who doesn't really like her to much.
Sunny is quite timid around other birds and may do better being an only bird where she will get the one on one attention that will help her with her shy personality.
She has proven to be quite destructive in her current home and would need to be monitored when she is out and flying about to ensure her safety.
She loves to eat anything currently on zupreem pellets and nutriberries. She loves chewing anything and everything especially fabric, sitting on your shoulder and eating your shirt is by far her favorite hobby but that can get pretty upsetting if you like your clothes because she'll destroy them and destroy wood everywhere, wall trims, window trims etc. She doesn't like hands a lot but if your very gentle with her she'll let you pet her. She gets picked on a lot and will do better with a minimal pet environment house.
If you are interested in this little fireball please email info@birdline.ca and we will pass on your contact information to the owner.