"Sam" Blue and Gold Macaw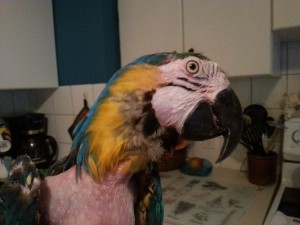 NOTE: Sam is not a Birdline Bird. We make no claims of health/temperament. Please contact the owner for further information.
This is Sam.Sam is about 20 plus years old.Sam is banded but it's too hard to read.I have owned Sam for over 8 years.He was plucked when I got him.
I was told he was used for breeding, and in a barn with no socialization except for when being fed. He is a happy bird. He prefers most females. He'll let you know when he is tired and wants to be covered up to sleep.
He sleeps about 10 to 12 hours a night. He loves his food. He is on roudybush. He loves bananas and fruit. He comes with a large cage. He loves to chew on wood. Doesn't really care for toys.he has been around other macaws and other birds,dogs ,cats and kids. He does give kisses and regurgitates for me. He doesn't mind showers but prefers spray bottles better.
I'm looking to re-home because I am moving out of province .He is currently in my basement because my house is to small for his cage on the main level.He also comes with a stand.Looking for a loving home with large bird experience.
Please contact Sandra at: dixiedawg@outlook.com
Sam is located about 35 miles southwest of Edmonton Alberta.