Avian First Aid Course – Oct 5, 2014
Calgary Avian and Exotic Pet Clinic and Birdline Canada Parrot Rescue Present

AVIAN FIRST AID COURSE
A.F.A.C.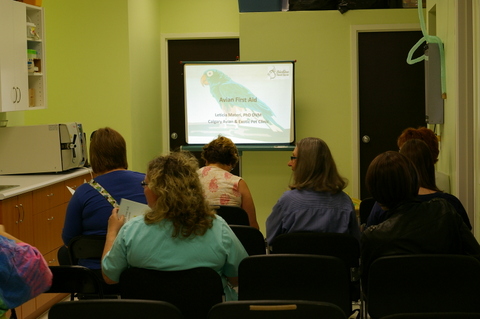 [dropcap]E[/dropcap]mergencies happen, and this course will instruct you on what to do safely before you can transport your bird to the vet.
It will cover signs of illness – how to transport your bird and toweling techniques and specific emergency situations including head traumas, broken bones, beak injuries and many other issues.
Each student will also receive a First Aid kit and manual.
Previous classes have filled up very fast, please let us know ASAP if your interested in securing a spot for this class.
Payments can be made On-Line by clicking on the Pay Now button on this page. You may use credit cards for payment using this button, or you can use your Paypal balance. You DO NOT need a paypal account to use this button!
If you wish to pay by Cheque, please mail your payment to Birdline Canada Ltd. Box 90027 Madigan RPO, Calgary, AB, T2A 7Y8.
Payments in cash can be made at the Calgary Avian and Exotic Pet Clinic located at: 2308 24th Street S.W. Bay 1, Calgary, AB and must be CASH ONLY – NO debit or credit card payments can be accepted at the clinic – a receipt will be given.
Cost: $85.00
Payment Deadline: September 15 2014
Date: October 5 2014 (Sunday)
Time: 11 AM – 3:00 PM (Lunch will be provided)
Instructor: Dr. Leticia Materi
The course will be held at:
Calgary Avian and Exotic Pet Clinic
2308 24th Street S.W. Bay 1, Calgary, AB
For questions please call 587-777-BIRD – leave a voice mail with your contact info and/or email address or email info@birdline.ca
Attendance list to date:
(Names will be added as they come in)
Debbie S
Diane G
Margaret A
Kamal
Sheena
Robin
Michelle and Guest
Brenda
Hannah
Judy B
Tina C
Jackie L
Treasa C
…
Please NOTE: Class size is limited to at least 10 minimum and 15 maximum. If for some reason we do not reach our minimum, a FULL refund will be given to each student.
** Refunds **
A 50% portion of your fee is non-refundable, should you choose to not attend the course.