Nikko – Alexandrian Parakeet
****Nikko has found a new feathever family!!****
This sweet girl is NOT a Birdline Bird.  Please contact the owner directly for further information on Nikko.  Thank you.
As per her owner:
We have a wonderful female Alexandrine Parakeet for adoption. She is 14 years old and has been in perfect health and with us since she was a baby. Our family has grown and now have many out of town commitments and sadly know "Nikko" will be better suited in a loving home that has more time for her.
She's friendly, social and loves sticking her tongue out at you and will mimic this if someone does it to her once she gets to know the person . She has a cage, stand and travel cage/crate as well as several toys and cage accessories.
This is a picture of her, looking a little fluffier then usual after a recent bath.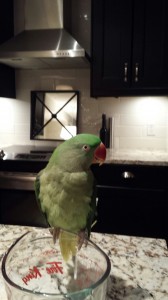 Please email inquiries to:
carrara@telus.net