Moe has been adopted.
Moe, an 11 year old maroon-bellied conure is in need of a loving home. Moe has been on yearly wellness vet checks, including full blood panel, and is in excellent health and condition. He has not been sexed but we've referred to him as male. Moe has only had one owner since being adopted. He is extremely loving and enjoys affection and being part of a family unit. He is on a pelleted diet with supplemental fruits and vegetables with the occasional people food that he loves. He is goofy and nosey and likes to play with toys and cluck to himself in dark places. He's particular about his favorite sock to curl up with at bedtime and likes to preen his family. He is very quiet for a conure and rarely screams, though he will call you if he needs you. His wings are not clipped but will on occasion take off if he's spooked.
Moe has been my baby for a long time. I love his quirks and personality, and I'm sure you will too. A small adoption fee may be required.  He will come with his cage, toys, favorite items, pellets and accessories, etc. My only concern is that he enjoys the same quality of life and love and attention he's been used to all his life. He's an excellent little bird who deserves the best a parent can offer. There may be several visits needed before I can ensure that he is going to the right person. I'm prepared to wait as long as it takes for that person to come along.
Approved homes only.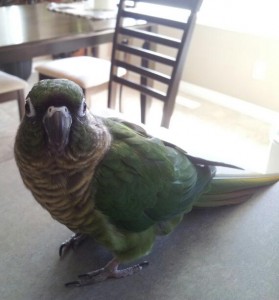 ADOPTED
NOTE: Moe is NOT a Birdline bird.