Kiko and Beaker have found their new 'feathever" family!!!!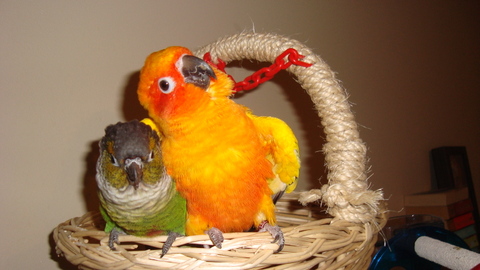 Meet Kiko and Beaker – a bonded pair of special needs conures looking for an amazing family to call their own!
Kiko is the sun conure and is about 5 years old – and has issues with his legs/hips similar to a from of hip dysplasia, as a result his perches need to be smaller and he does not hold food in his feet, but actually balances it on his chest to eat, food MUST be cut into smaller pieces.  He doesn't like men and will bite pretty much any male that tries to step him up.  He is particular to what female he likes as well, but once you earn his trust, he settles in.
Beaker is a green cheek conure and about 7 years old and has deformed feet due to bad husbandry in the nest, as a result he has the same needs as Kiko but can hold food in his feet.  He has recently started flying and is still learning direction.  He has taken awhile to warm up to anyone and like Kiko, with time and patience, we believe he will settle down with the right family.
They have a great diet now eating harrisons daily and fruit/veges, their favorite treat – which is also used in their target training – is walnuts pieces, they will do just about anything to have that!!
Their cage is not a standard parrot cage as the depth is to long and they do get clumsy at times and fall.  They are in a ferret cage (photos to come)and utilize the top part of the cage.  The space is adequate and long enough for them to be incredibly active but not a far drop down should they fall.
They can be very vocal at times and not recommended for any attached dwelling.  They LOVE to play ontop of their cage for literally hours a day in various baskets – with various toys – yes, they are very messy!!  At this point they are both quite hormonal and Kiko spends alot of time regurgitating on his toys and Beaker is busy under the paper in the cage and exhibiting nesting behaviors – they are NOT being hormonal to each other 🙂
While they are curious about other birds, they have not flown onto any cages but will try to get onto other playstands whether a bird is there or not – they need to be monitored/watched very closely.
These two are a joy to have around and any family will be incredibly lucky to add them to their flock!
If interested in them please refer to /guardianship/ and once we have your completed form we will set up a time for you to meet them.
April 2013 update on Kiko and Beaker
These two continue to be incredibly happy/healthy and are still a tiny bit h0rmonal – and have decided they LOVE their bath – any water dish becomes fair game to these two.  They continue to have great appetites and play for hours upon hours.
Beaker is now fully flighted and while he can get a bit of height, he chooses to do a quick circle and come straight back – if he turns to wide, he will land on the floor or another cage if its close by – they should be in their own space due to this ie: in a corner in the living room/dining room with no other cages to close – these are not the kind of birds who would do well in a bird room – they readily seek out human attention and enjoy people around – placing them in any other area causes them to become very very vocal and agitated.
We really hope these two can find a loving 'feathever' home, they are very special little guys and deserve to have a family of their own.
Sept 2013 update:
Kiko and Beaker spent some time in foster and have recently returned. They didn't adapt to well and seemed to dislike the man in the home. This brought out the aggressive side of Kiko 🙁  Since their return, they have settled in quite well and are adjusting to their new routine once again. Both boys are now fully flighted and are learning how to get around the room. They DO land on other cages and should not be in a home with large birds unless they have their own space with ample outdoor time to play/forage and practice their new found flying skills.
At times they can still be a bit nippy – when changing their paper or food bowls they will try "sometimes" to take a swipe but for the most part are well behaved. As this behavior was quite apparent in their foster home, its expected that its part of their "conurism" as we like to phrase it 🙂  Expect a few nips 🙂