Day 12 – "MERRY CHRISTMAS"
MERRY CHRISTMAS FROM OUR FLOCK TO YOURS
We hope you have enjoyed the past 12 days of stories..these birds and their lives, are a reflection of what Birdline is all about.
Some come in very broken, alone, lost and confused…and with love, determination and compassion, we help them learn how to trust again.
Love..four letters to form such an important part of our lives..not only in the care of the birds, but in our care of each other..
Compassion..the ability to give of ourselves without expectations, judgement and the empathy to care even if we don't really understand..
Faith..to always believe in something strong enough, and have the desire to fight for it…
Below are the many faces that have passed through our doors, some have gone onto new families, some are still here, some are in foster, and some are now soaring the skies in Gods Gardens…each and every one of them have touched our lives in amazing ways – as have many of the people we have met over the years.
Thank you for sharing our journey with us and we hope you all have a wonderful Christmas with your families, both feathered and non feathered.  Gods Blessings to each and everyone of you.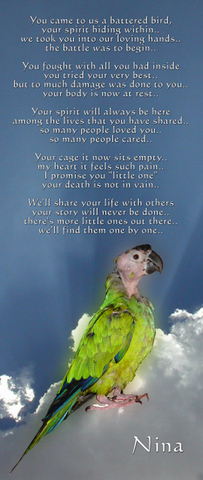 Making a difference…one life at a time…..