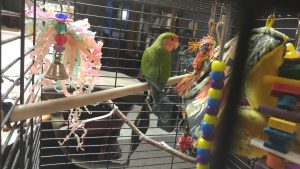 This little guy is about 3 -4 years old. He is not hand tame and quite shy.  He has been in the company of other lovebirds and has not shown any interest or aggression but actually likes to hang out on his own.
He does love his swings and we try to keep one in there for him at all times.
He does like his seeds and is nibbling on harrisons fine pellets and enjoys his greenery!
His cage does go with him when adopted 🙂
If your interested in this little guy please fill out an application or email us for more information: info@birdline.ca