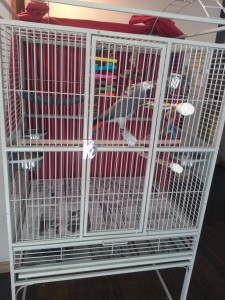 Eddie is a 25 year old Congo African Grey.  This sweet guy is looking for a VERY patient and loving family to call his own.
Eddie has had a few issues from his past environment that dealt with inappropriate behaviors being punished in a very negative manner – as a result, Eddie DOES have some trust issues and is still learning how to have people approach his cage without aggression.  He has made progress in the short time here but it will be a long road ahead of him to replace the old behaviors with new more positive ones.  Eddie is very treat motivated with target training and has a very large appetite.  As his diet consisted mostly of seed and human grade foods ie:pasta/bacon/meat etc his overall body condition is not 100% and will take some time to recover from the effects of an inappropriate diet.  We will have bloodwork done on him in the coming weeks to monitor for any signs of heart disease.
Eddie has a magnificent whistling ability and at times will serenade us with his music.
Eddie does not step up and cannot be handled at this time – and visits will have to be done here with him after the screening of your application.
Please visit the guardianship page for the application.