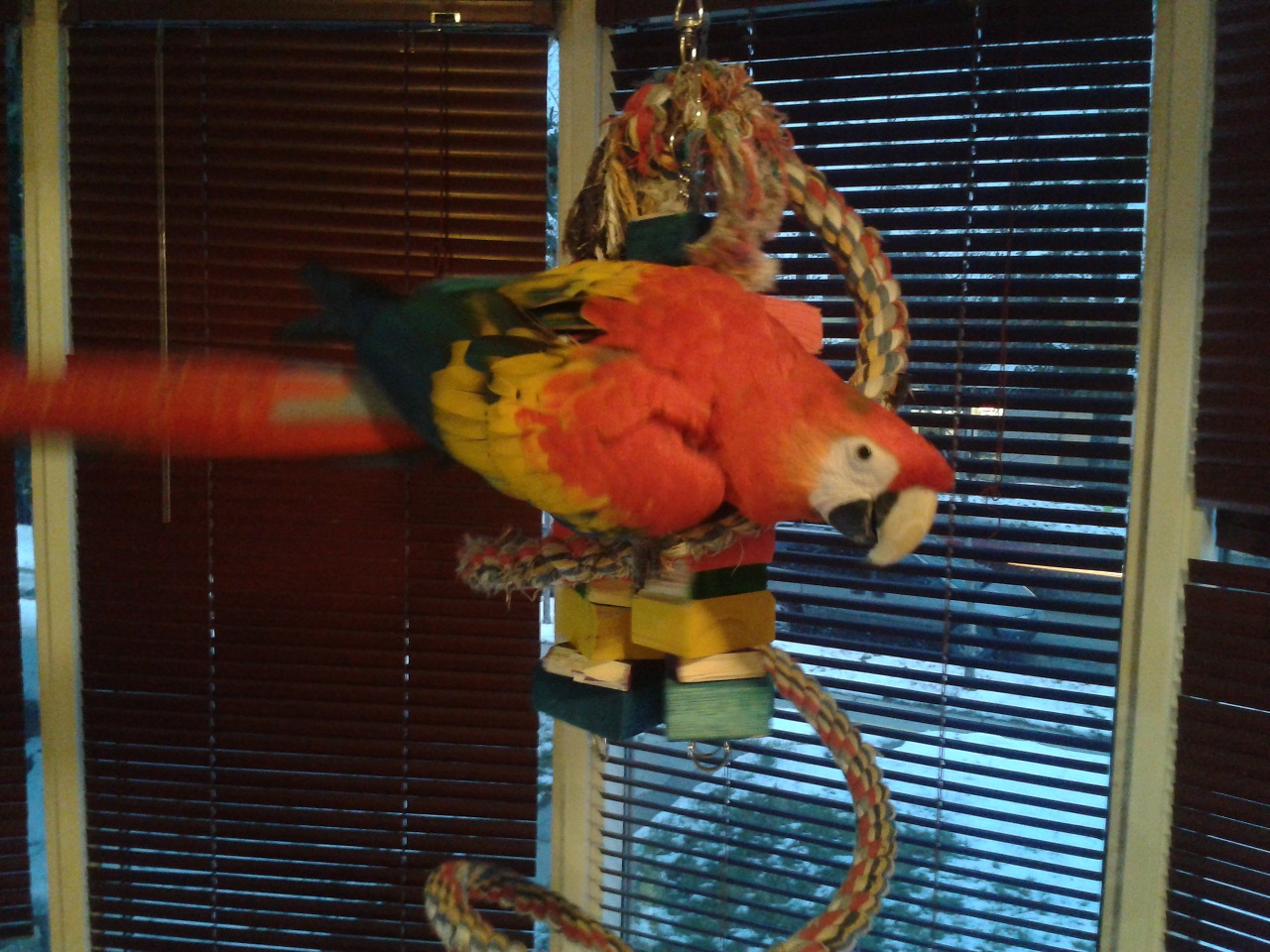 ""RUBY HAS FOUND A NEW FOREVER HOME – YEAHHHH TO RUBY AND HER NEW FAMILY!!!!!"
Meet Ruby….
This sweet young girl is almost ready to celebrate her 2nd birthday!  She is big in size – big in charm – big in beauty and VERY big in commitment and responsibility.
Ruby has been working hard and learning how to be a good girl and has great skill in her "step up" command as well as "come here".  She is as smart as she is beautiful!
Ruby needs a home that can provide her with lots of space and time but still be able to give appropriate boundaries.  She is learning every day and will try to see how much she can get away with.  She has just learned how to fly and with a 4′ wing span she really does need a space large enough to get around in safely.  You will also need a saw for chopping wood – she goes through a ton of 2×4 chunks every single day.  She also LOVES to swing so if you have an area to set up for a boing she will keep herself occupied swinging and bouncing and dangling from a single toe!!  An interactive play area would be beneficial to her as well – a T stand is not quite enough engaging stimulation for her.
It would be beneficial if you have an understanding of positive reinforcement training and experience with macaws – this girl is NOT for a first time parrot owner.
She is fairly quiet and inquisitive but can belt out a good scream if she wants to!
As demanding as she is – she gives back twice as much – she loves to sit with you and have her head rubbed and will want to be wherever you are and watch what your doing – very curious!
Ruby is a youngster and still has so much to learn – and would love a new family to call her own!
Ruby will be making her first appearance at our adoptathon at the Monterey Pet Valu (68 st and 16 ave ne) Sat Feb 9th.  If you want to meet her, come down and visit!!
NOTE: Ruby is NOT a Birdline bird but we will assist in her placement.
Please contact Robin at: robin@parrotbehaviour.ca