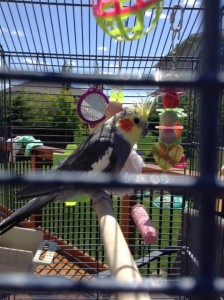 Ozzy is "not" a Birdline bird at this time. We make no representation/s on gender/health and/or temperament.
Ozzy is a six year old, female cockatiel. We are moving to Australia and cannot take her with us due to government import restrictions for birds. We want to give Ozzy to a good home, one that loves birds and will give her the care she deserves.
Ozzy has been raised in an active home with three young children and loves to interact with them at dinner time. She is a little bit shy around visitors especially men that are a little too intrusive to her environment. She loves her millet and peas and regular cockatiel seed too.
If anyone is interested in meeting Ozzy please let me know. We are located in the town of Crossfield, 10 minutes north of Airdrie. If location is an issue, I  can try and meet you at a more convenient place if it means finding a wonderful home for our cockatiel.
Please contact me for further information at Ph: (403) 941-6264 or at cjbakersherman@gmail.com.