"Mya" – White Capped Pionus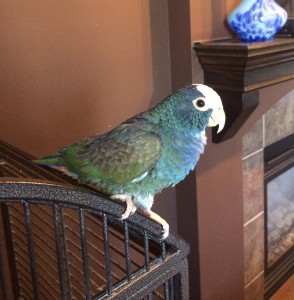 Mya is NOT a Birdline bird at this time.  We make no representations of health and or temperament.
The following information is provided by Myas current owner:
Mya is a White Capped Pionus, she hatched on April 3, 2005.  Mya loves to whistle and can repeat many different whistles including the dog call and the pretty lady.  She also likes to mimic sounds she hears like laughing, couching, sneezing & the faucet dripping.  She can say a few words/ phrases – Baby, Hi Mya & Good Morning.  She loves to hang out and be close by, she loves to have her head scratched and to play with toys that she can rip apart.  She also really loves almonds and other nuts.
We are looking for a good home for her as our situation has changed and we are no longer able to give her the time and attention that she needs.  Mya takes a while to warm up to new people but once she has bonded with you she is a very sweet bird.  We are looking for a single person or couple who do not have small children, who have the time to put into building a solid relationship with her.
Please contact Rikki at rikkidymond@yahoo.com for more info.