"Miko" Eclectus Parrot – REHOMED
Miko was transferred to another rescue as per his owner.  
This is Miko – a 4 year old (approx)male Eclectus looking for a family to call his own.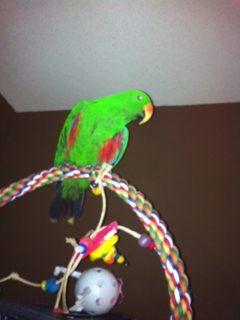 His past is a bit sketchy – but he is now in his 3rd home and unfortunately its not quite the fit he is looking for.  The information provided is from the current owner – this is NOT a Birdline bird and we give no guarantees on health and/or behavior.
"Miko has been rehomed at least twice that I know of. He likes to come off his cage and follow you around, he seems to need reassurance that he is not left behind. For the most part if he has to poop, he will go back to his cage to do it. He does talk a fair bit ( all nice words), and he has taken a shining to my 6 year old. I am nervous of this however because he will bite out of fear, or if I try to remove him from her. (She doesn't exactly feel the same way about him) I am nervous of that big beak around her."
"He also is agressive to my senegal. If I turn my back he will run for her cage. He is quiet noisy around the other birds although the screaming is getting less each day. I am told by his previous owner that she never heard him scream once so I believe it is due to my other birds. He really doesn't seem to care for them. He is on tops organic pellets and bird mash, and lots of fresh veggies. He really loves Indian nuts and walnuts as treats. He loves his foraging treat toys, and a wiffle ball stuffed with pieces of paper. He is covered at night around 8pm or he will get noisy. He kinda talks himself to sleep. I really want him to go to a good home where he will be able to come out of his cage lots as he is not a happy camper if he is locked up. He does step up nice, but is a little unsteady so he needs to lean in close to feel safe. He enjoys showers in a shower perch. (Miko is currently clipped)
For further information or to potentially meet Miko (located in Ponoka) please contact Crystal at 403-348-3971 or samohtc3@hotmail.com
Crystal has stated she is in no rush to place Miko and will take as much time as needed to find the perfect placement.  She is asking for an adoption fee and you can discuss that directly with her.