"Baby" – Citron Crested Cockatoo
ADOPTED  Baby is now settling in with a new family.
This bird is "not" a Birdline bird at this time.  We make no claims and/or guarantees to gender, personality, temperament or health.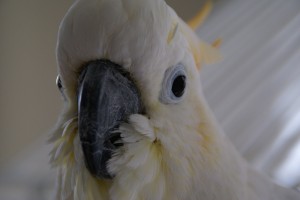 I have a 21-year-old lesser citron crested cockatoo that I am looking for a good home for.  I have been her only owner and this is a very difficult decision for me.
She is very social and will step up with anyone.  She doesn't do well with children as they make her nervous.   She seems to prefer men but is bonded to me as well.  She has a small vocabulary. She is territorial of her cage at times, but is ok once away from the cage. She needs to go to someone who has previous parrot experience and understands cockatoos.
She is not a screamer but does contact call when you leave the room.
She comes with her cage (6′ x 3′ x 4′) and all her accessories (food, treats, perches and toys).
I will be looking for a rehoming fee which we can discuss.  This fee will include her cage and her separate sleep cage.
Please tell me a bit about yourself and your parrot experience and we can make a time to meet and do introductions.
Located in Calgary AB.