"Baby" – Citron Crested Cockatoo – ADOPTED
This bird is "not" a Birdline bird at this time.  We make no claims and/or guarantees to gender, personality, temperament or health.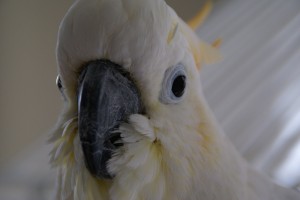 Baby is a 28-year-old lesser citron crested cockatoo – located in Calgary AB.
Baby was with me for 21 years and then was adopted by a wonderful man when my life circumstances changed. Part of the agreement was that I was able to retain contact and if anything ever happened that made it impossible to keep her, the owner would return her to me.  Sadly, her loving caregiver passed away suddenly this summer. Unfortunately, circumstances have not changed and I am unable to keep her long term and I am once again seeking out a new family for her with the same conditions above.
Baby is a clown and loves to be the centre of attention.  When in public she engages with everyone she meets. She is not flighted.  She is very social and will step up with almost anyone.  Her previous owner took her to nursing homes and hospitals as part of recreation therapy programs and she loved it.  She has gotten pretty good tolerating children and has done fine with my 8 and 4 year olds in the three months I've had her now but I had found previously that children's sudden movements and unpredictability made her nervous.  Ideally she will be placed with someone with older children or no children.  
Baby has a small vocabulary: "Hello Baby" "Hi birdie bird" "bye bye" "what are you doing."  She will sing and cry and laugh.  She also contact calls when left alone in a room and is noisy as the sun sets.  She has a separate sleep cage in a dark room and I put her to bed at a regular time. This gives her predictability in routine and allows for uninterrupted sleep.
Baby can be territorial of her cage at times, but was always ok once away from the cage. Cardboard boxes or other small hidey holes will trigger her nesting instincts and make the behavior worse.  In the 21+ years she has bit me maybe 10 times, mostly when putting her back into her cage but once or twice when she perceived I was keeping her from my husband. Cockatoos love to chew and destroy things.   She will need a steady supply of toys to destroy.   I have many foraging toys which she has gotten good at getting treats out of as well.
Baby needs someone who has previous parrot experience and understands cockatoo behavior.  She can entertain herself but she would much rather be around her flock (her family).  This is a mature bird who needs and wants contact and attention.  She would do best in a single family home and with a family who is home as much as possible.  A regular routine that is consistent is important. She would prefer a man but is good with many women as well.  If you are a woman and there is a man in the home she will try to be with him constantly so plan for that.  He should be on board with Baby joining your family.  She will need someone who can work with her on positive reinforcement and be confident in handling her.  She is NOT a first time bird.  
Cockatoos have a 40-60 year lifespan so I am hoping for someone ready for a 10-30 year commitment.  As above I will expect her return in the event something happens.
She comes with her cage (~5′ x 2.5′ x 3.5′) and all her accessories (food, treats, perches and toys).  There will be an adoption fee which will be discussed.