"Cookie" Yellow Headed Amazon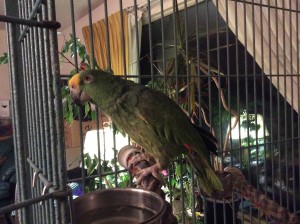 Recently I have had to make the decision to give my beloved Parrot Cookie up for adoption. I have had Cookie for just over 3 years. In the three years that I have know Cookie, he has become my best friend.
One of my favorite things about Cookie is he wakes up everyday with a friendly, "hello!"
He enjoys, music, singing and dancing. He loves to be active and take part in whatever is going on around him. He has a Bell which he loves more than any other thing in his cage.
It is very important to me that I find more than just a owner for Cookie. He needs a person who is passionate about Parrots and is looking to be his new BFF!
Before I met Cookie he lived with a family who neglected him and did not treat him we'll. Cookie, came to me with some bad habits and behavioural problems. Like all humans, not every bird is perfect. In three years Cookie has grown leaps and bounds and has flourished into a beautiful mature adult.
I want nothing more than to find my best friend a new home where he will be loved, appreciated, and forever taken care of.