Meia – her story and her loss.
Sunday afternoon we received a plea for help from a Lethbridge resident who found a parrot on her doorstep inside a cardboard box.  Upon opening the box, she found an Indian Ringneck Parakeet with a severe leg injury and bleeding.  She wrapped the leg in bandages and through a series of emails and phone calls she contacted Birdline.  Late Sunday, a volunteer made the drive out there and brought the bird back to Calgary.
Monday morning she was taken to our Avian vet and once the bandage was removed, this is what we found: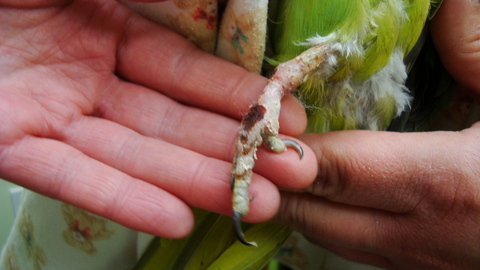 The ankle joint had been broken and was fused in place – this was an injury at least 3 weeks old – possibly longer.  We believe the lesions may have been self inflicted as she did bite at her leg frequently – she was in pain and birds are often known to do this.  She was given pain meds and antibiotics and we needed to make a decision long term, humane euthanizatia or amputation.  We decided to go ahead with the surgery.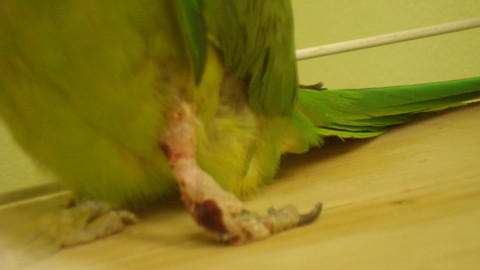 Surgery was this morning and sadly Meia did not survive.
5 minutes into the procedure, her heart stopped suddenly and despite the valiant efforts of the Avian Vet and techs, they could not revive her.
Our hearts are extremely heavy right now as the tears fall.
This bird suffered a traumatic injury at some point, and due to the neglectful behavior of her previous owner, she suffered in pain for weeks until help was found.  In all likelihood, the leg could have been set and saved as well as her life.  Lack of funds should never be an excuse to allow an animal to suffer.  She could have been taken  to the SPCA where they would have sought help right away or humanely euthanized her and saved her the pain shes been enduring all this time.
A report has been filed with the ABSPCA as well as with the Lethbridge SPCA.  If you have any information in regards to her case, please contact them.
We extend a special thank you to Megan who not only drove to pick her up, but immediately set into action a fundraising plan to see to it that some funds would be available to help with the cost of the surgery.  We can't thank you enough for all you have done for Meia, and for Birdline.
Shes flying forever free…till we meet again sweet girl….