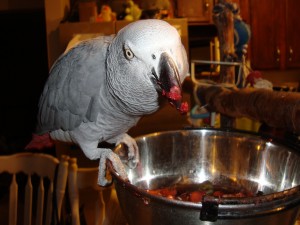 Phoenix is an amazing Congo African Grey Parrot.
As mentioned in the previous notes, he has been on a behavioral hold for a number of weeks.
As a pet store bird, he found himself bought and sold 4 times before he was 5 years old – each return was due to his aggressive behavior – specifically to women.  He has shown "some" aggression to certain men, and will let you know if he likes you or not.
Phoenix was placed in his 5th home this past October, and unfortunately it did not work out for him.  He does not like to be alone, and during the day he will become increasingly vocal – lots of chirps/whistles/calling etc – when hes with other greys, he interacts vocally with them and screaming has NEVER been an issue – until he is alone apparently (as per the last guardian).
Phoenix picked up a few bad behaviors while gone and we have been working with him on these issues, the one that has been challenging has been his interaction with some women, his aggression has increased and at times, he will charge to bite.
The transition period to a new home did NOT go well for Phoenix and that is evident with the behaviors he now has.  Due to these issues we will be VERY selective helping him seek out the best family.
Phoenix will not be adopted into a family that does not own their own home, no exceptions – he can be vocal and when the neighbors complain, he gets asked to leave – this is NOT fair to him.  No apts/duplexes/condos/bsmt suites etc.
His new guardian must be experienced with African Grey parrots – "some" bird experience will not be acceptable for him.  As well, the guardian needs to be a male – Phoenix has demonstrated a strong dislike to women for over 7 years, this will be something that is going to take awhile for him to overcome.
Phoenix has always had a great appetite for all fruits/veges/harrisons pellets and almonds as his treat – he is not food motivated in training but does respond to verbal praise – sometimes.
He does not actively "play" with other greys, but he does enjoy their company and talking/singing back and forth.  He would do well in a home that has one or two other african greys.
Please keep in mind that he is a young bird with a long lifespan (up to 50 years or more).
Due to the negative transition Phoenix experienced, he will need multiple visits with a potential new family – for this reason, you must live in Calgary.
This guy has gone through alot in his short life – he is an amazing parrot – very engaging with conversations, is in perfect health and feather, loves to be a trickster and does have an amazing personality with the exception of not liking females.  He chews wood daily, and loves hanging out on the 4 foot playstand – he will also need an area that has a place to play – ontop of his cage or a t-stand is not enough activity for him 🙂
If you think you are the family/person that Phoenix is looking for, please go to the guardianship tab and fill out an application form found at the bottom of the page, or email us for more information info@birdline.ca