Adopted!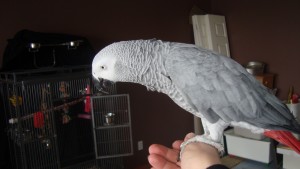 Zorro is a DNA male African Grey who turns "10" in March.  Zorro spent alot of time in various petstores and was eventually purchased at the age of 4. He stayed with this family for just under a year when he was surrendered to Birdline due to increased aggression.
Zorro spent some time in foster before he was adopted.  He has been with his current family almost 4 years and due to unforeseen circumstances has found his way heading back to Birdline.
Zorro does not have a real preference for either male or female and would do well with either one.  He does however require someone with experience.  With his past behaviors, he is NOT a bird for a first time owner.
If you are interested in adding him to your family, please fill out an online application.