Lost cockatiel in Arbour Lake NW Calgary
I lost my bird yesterday. I live in Arbour Lake NW and the bird flew right out of the door. She is 2 years old, a pearl color, and her name is Shikabala.
She has eggs in her nesting box, and she also has three other friends whom sleep in the same cage sometimes, two other cockatiels and one budgie.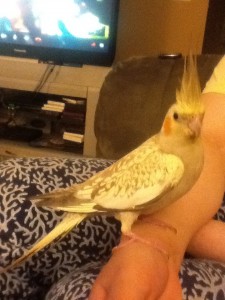 If found please call 4033740058 (home) or 4038365509 (cell)  or email me back. Thank you so much for your support.