Meet Joe – this sweet boy is almost 15 years old and looking for a very special place to call home!!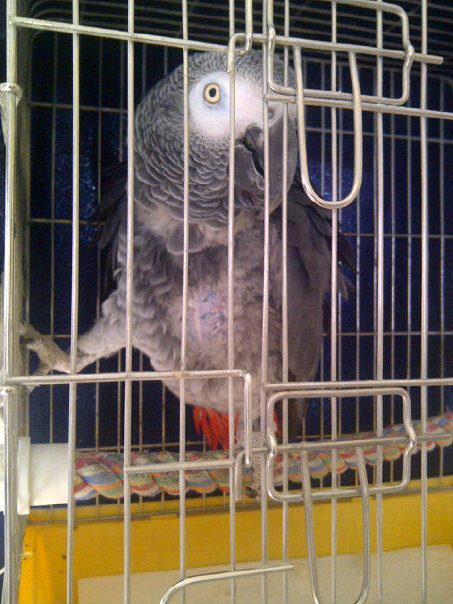 The above photo was taken of Joe on the day of his arrival.  Joe is not wild caught, but has not had any human socialization and spent most of his years inside his cage.  Unfortunately for Joe, the cage was not best suited for a bird of his size and he does have some physical issues that may be related to the accommodations/diet and possibly past injury or a combination of all of it.
Joe is still learning how to get around his cage comfortably and has only started coming out and climbing down to the floor to investigate his surroundings.  With the leg issues he is experiencing, hes finding it difficult to get back up his cage as the legs don't appear to have the flexibility to stretch backwards – the normal movement you notice when a bird is climbing, and because he is NOT hand tame at all, it may take a few hours for him to make his way back up.  He has a bit of a tilt when sitting and its clear that the right leg doesn't sit in formation like the other one.  We wanted to wait a few months to see how the new cage/perches and diet would affect this physical issue and thus far there has been no changes and xrays will be done to investigate this further.  He is still scared of playstands and we will continue to make smaller less scary ones for him to experiment with.
He has stopped plucking and has alot of new feather growth coming in – including new tail feathers.  In the past, when Joe broke feathers, an individual in his life would pull the broken ones out with pliers – NEVER EVER do this unless its a broken blood feather that won't stop bleeding and you know exactly how to do it safely!!!!!!!!!  As a result of the feathers being removed (specifically the tail ones)we don't know yet if there is any permanent follicle damage – that won't be known until he has fully molted.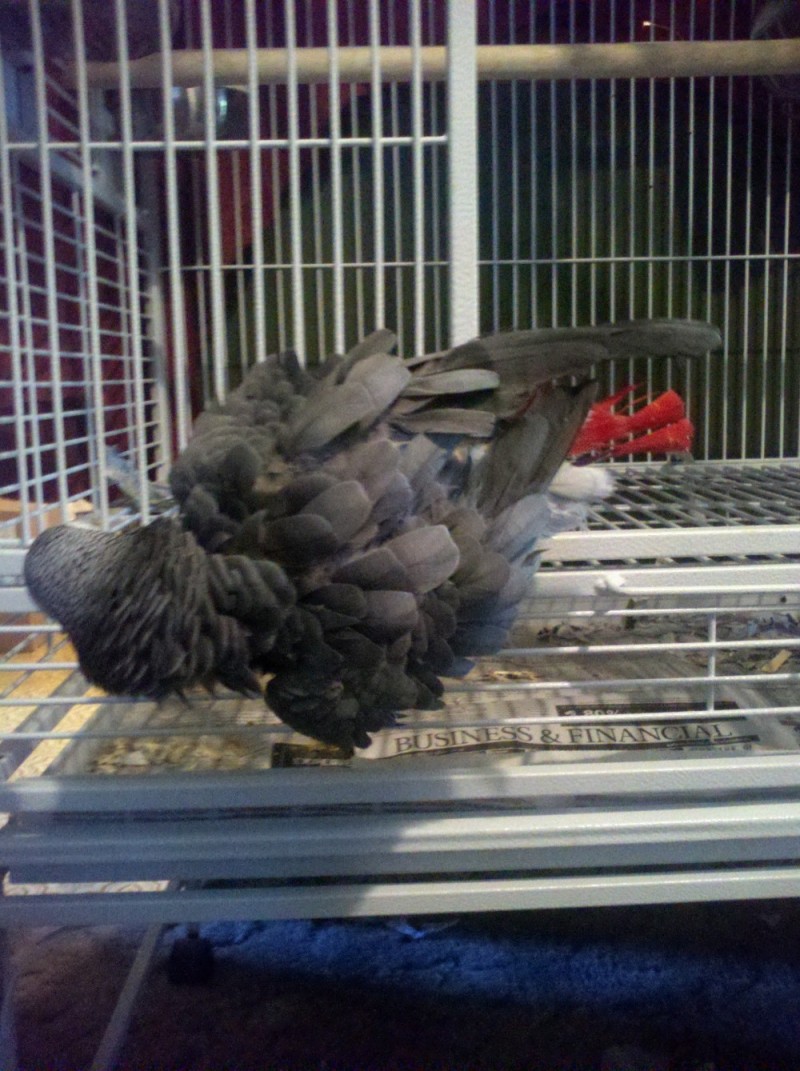 You can see the new feathers on his back and the new tail feathers peeking out.  The new tail feathers do have stress marks on them and could be a result of current circumstances or existing issues.   The primaries on his left wing are not coming out as of yet, as they were also pulled out, there "may" be damage to the area – or it may take many more months for them to grow out.
Joe LOVES to eat, the more the better!  His previous diet was rich in seeds and peanuts and is now filled with fruits/veges and harrisons – he was scared of most food/toys in the beginning but has grown confident to try everything and loves new toys (as long as they aren't bigger than him to start with). He especially likes his wood blocks (2 x 4s cut into 1 inch blocks).
Joe is not crazy about other birds and if they come to close, he will lunge at them – he likes to chat/sing/talk ALOT and enjoys the company of other greys but not close to him.
Joe is looking for a special family with ALOT of patience and experience.  Because of the issues he has gone through, he needs someone who can understand his body language and is ok with the fact he may never be hand tame. He is an absolute joy to have around and keeps us laughing at his sound effects and conversations he tries to has – he really is alot of fun to have around even without being a hands on bird and he deserves to have an amazing family of his very own who will love and appreciate him as he is 🙂 but continue to work with him on the many issues he still has.  We do request that there are NO small children in the home.
Please contact us for further information and visit the guardianship page for an application form.