Ricky – Blue and Gold Macaw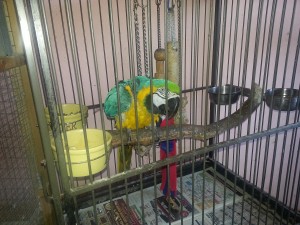 Picture above is Ricky in his old cage taken on April 30th.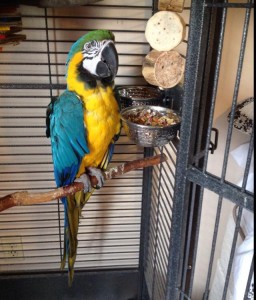 Look at Ricky now!!
Ricky is estimated to be between 16 – 22 years old.  He came in with over 35 other parrots from a hoarding situation and spent the last 5 years or so living in a shed.
Ricky is not to partial to women and does NOT like small children.  While out on his play-stand, if a small person walks to close, he WILL try to bite. He will need a male companion and while he does okay with multi-bird homes, he will attack if another bird lands on his cage.  His ideal home will be a man as his caregiver, no children under 12 and limited other birds.
Our goal is to have Ricky placed into an adoptive family and not foster – the constant moving around is not going to be beneficial to him and will only cause more issues.
Two years ago, Ricky got sick very fast and spent many days in ICU at the Avian Vet clinic. Despite numerous testing's, it was not determined what made him so sick. He dropped alot of weight, his glottis was incredibly swollen in his throat and he was on medication and cage rest for many weeks.  It took some time for him to regain his strength but since that time he seems to have made a full recovery.  This is something that will need to be monitored ie: regular weight checks, monitoring of all food intake etc. He also needs regular nail trims at the Avian Vet.
If you have "large" bird experience and think you may be the right person Ricky needs and live in the Calgary area, please fill out an online application found on our website.   We will come to meet you and your family and will be requesting numerous visits here with Ricky before placement. (Please review Covid news)
 Ricky has a VERY large cage and play-stand – you will need to ensure you have space in your living room to accommodate his items 🙂