"Sassy" – Goffins Cockatoo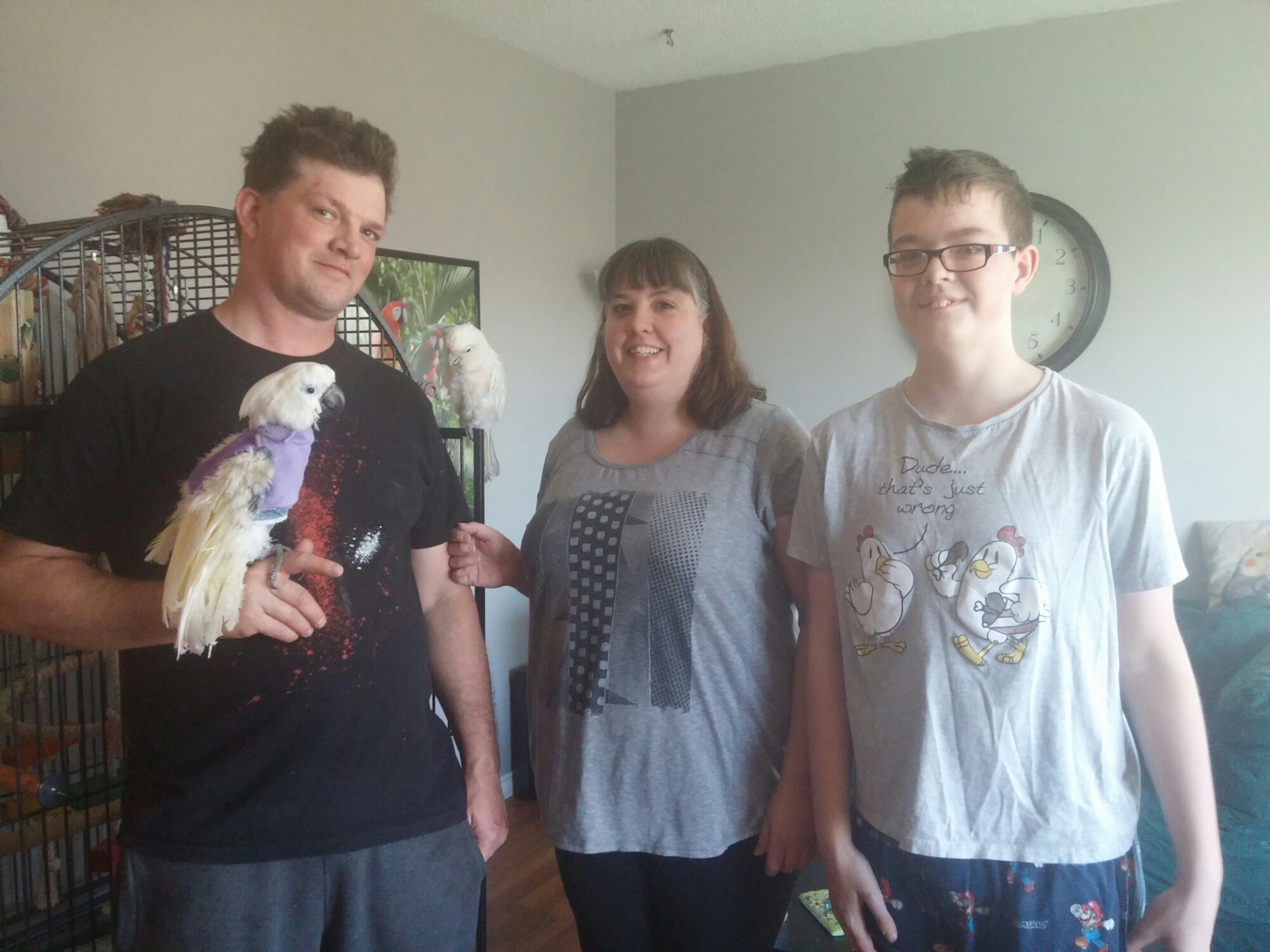 Sassy is home!
Today we delivered Sassy to his new home. The sweet little too on the left in the purple shirt is his new cousin. Sassy will have so much fun!
This sweet little goofball is "Sassy", we had given this Goffin Cockatoo the name before the DNA testing was complete, and it turns out little sassypants is a male and he is almost 2 years old.  We do not have an actual hatch cert for him, and base his age on the previous home/s information.
This little guy is one of the busiest cockatoos I have ever met, he does fine in his cage (which is a big dome style cage)anywhere from 1 – 8 hours in a day, and when out, plays his heart out.  We have a playstand that was built with branches/rope and measures 4 1/2 ft in length, this is his favorite play area and we HIGHLY recommend if your interested in adopting him, that you provide him with the same style of play area.  When bored, he will be very vocal about it.  Keeping him busy with various toys and things to chew keeps him very happy!
Sassy – along with the other cockatoos – all sleep in separate sleep areas and cages.  He gets tucked in around 8 pm and wakes up around 7 am, having a proper sleep schedule is keeping him from developing negative behaviors that are known in cockatoos.  He enjoys hanging out with the other birds, but does NOT interact physically with them – a multi bird home would be fine.  He had started chewing wing feathers prior to coming in and they are just starting to grow out – due to this, he is not able to fly.  He has demonstrated a liking to girls and can be nippy with males.  He needs someone with a strong but NON abusive hand and confidence to handle him.  Hes not aggressive by nature, but does try to get his own way with a nip.  He has learned target training via clicker training and is a very very smart boy!
If interested in meeting him, please fill out a form /guardianship/ and once we have that back, we will set up a time to bring him to meet you.  Sassy would adapt to any home quite well, but no small children please.
Sept 2013 Update:
Sassy has been in foster for the past few months and continues to grow and learn with each new day.  He is still a VERY busy boy and has now fully fledged and is 100% flighted!! He is starting to learn basic recall commands and has learned to fly around the house with ease. He DOES land on other birds cages and his new family must always be aware of where he is at all times. He has also decided he likes toes, he hasn't bit them yet, but he loves to groom them and nibble on them.  Based on his past and current behaviors and the fact he can still be a bit trying at times, we do not recommend him to a family with very young children. He does not understand the small hands and when flying around, where ever he may land, if there is a small hand there, it will most likely get nipped.
If interested in adding this adventurous boy to your family, please contact us!